This means that we've completed a PAS 91, a standardized questionnaire which unifies common questions used by buyers to assess the suitability of services providers, like us. In addition to this, we've also completed an enhanced pre-qualification questionnaire, including assessing our credentials for environmental management, quality management, equal opportunities, modern slavery act adherence and anti-bribery and corruption policies.
Finally, to become a certified gold member, we are assessed for SSIP (Safety Schemes in Procurement), assuring you that we have the best practice of the health & safety module of PAS 91; including specific experience in the work we carry out for our clients, trained staff, and that we have the resources required to meet our clients needs.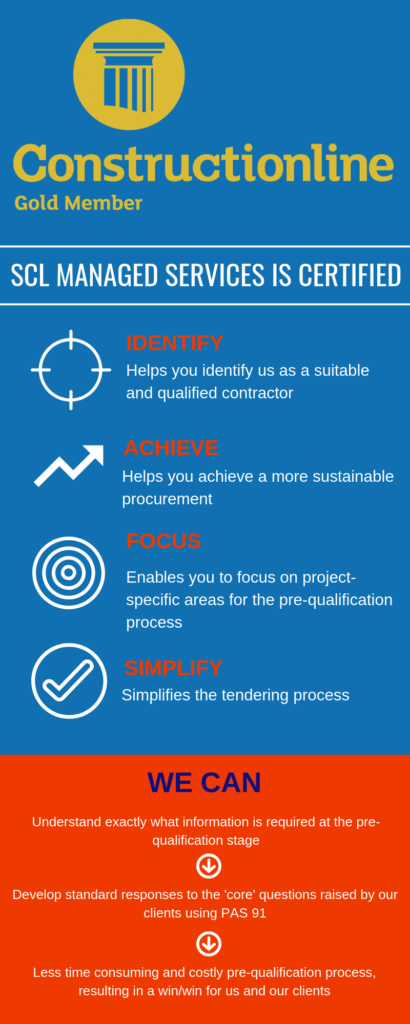 WHAT DOES THIS MEAN FOR YOU?
This means the amount of evaluation work required by our clients is reduced
Saves our clients time processing and assessing inappropriate tenders
Makes our client's life easier and helps shortlist us as an appropriate supplier
WHAT DOES THIS MEAN FOR SCL?
We understand exactly what information is required at the pre-qualification stage
Develop standard responses to 'core' questions raised by our clients using PAS 91
Ensure a less time consuming and costly pre-qualification process, resulting in a win/win for us and our clients
We save time and enable our clients to prioritize their focus on the project-specific areas of the pre-qualification process. And gives our clients peace of mind that we follow the government standards for construction procurement, developed by the British Standards Institute, and have passed SSIPs Health & Safety standards.

See " how to place a tender inquiry " to start your tendering process