Thank you to the Plume Academy Maldon for having us at their careers evening last night. Here at SCL we were very keen to be involved in the careers evening with the Plume to encourage young people into facilities and engineering. We are very passionate about helping young people develop the attitudes, skills and knowledge to feel confident in making a commitment to a career within our industry.
The event was very well attended with students ranging from year 7 upwards looking to discuss career prospects and take advice learning journeys on the lead up to deciding on a career. There were also presentations around career and learning options and opportunities within the District of Maldon from the University of Essex, Maldon District Council
We also brought along Alice Kinsella Team GB and UK Gymnast. SCL Managed Services Sponsor Alice as part of our Together We Enhance People's Lives Vision. Alice signed autographs, had selfies and shared moments from the incredible year of 2018. Alice played a key part in inspiring young people to follow their dreams.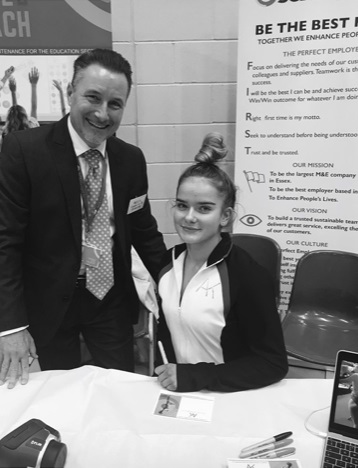 Gary Clatworthy CEO Of SCL Managed Services Limited said:
"What a great event tonight at the Plume. Great to meet lots of young people looking to forge a career in FM and Engineering. We look forward to helping as many as we can to enter the industry and us assist them to reach their full potential. Great also to have Alice Kinsella (Commonwealth Gold Medal Gymnast) join us tonight to sign autographs and talk to the pupils about sport. It's an honour to sponsor Alice and we all at SCL Managed Services wish her further enormous success on the world gymnastics stage.
SCL Managed Services Sponsor Alice Kinsella as part of our Together We Enhance People's Lives Vision. The whole team at SCL Managed Services are very proud to sponsor Alice Kinsella. As a World Class Company we identify with Alice who is a World Class Gymnast. Her dreams, ambitions and being the very best she can be are an inspiration to everyone in our organisation. Every member of our team work hard to be the very best they can be and we always push the boundaries of what is achievable. Success breeds success, we learn from our mistakes and we give our very best, always. As we grow we watch Alice grow and we inspire each other for greater success.
It is an absolute joy to be associated with Alice Kinsella.
Big thanks to the SCL team tonight for representing the company, and a huge thank you to The Plume Academy for having us at their event. Top job everyone!"
Check out our feature in the Maldon and Burnham Standard